EGX Rezzed, London's biggest gaming event, concluded a week ago. Strange Labs was in attendance and amongst the various qualities of cosplayers wandering around, excellent merchandise and endless games to play, there were also some pretty cool talks from the developers themselves. We managed to get to a few (annoyingly everything inevitably overlaps at these sorts of events) and thought we would share our favourite picks of brand new, up and coming games.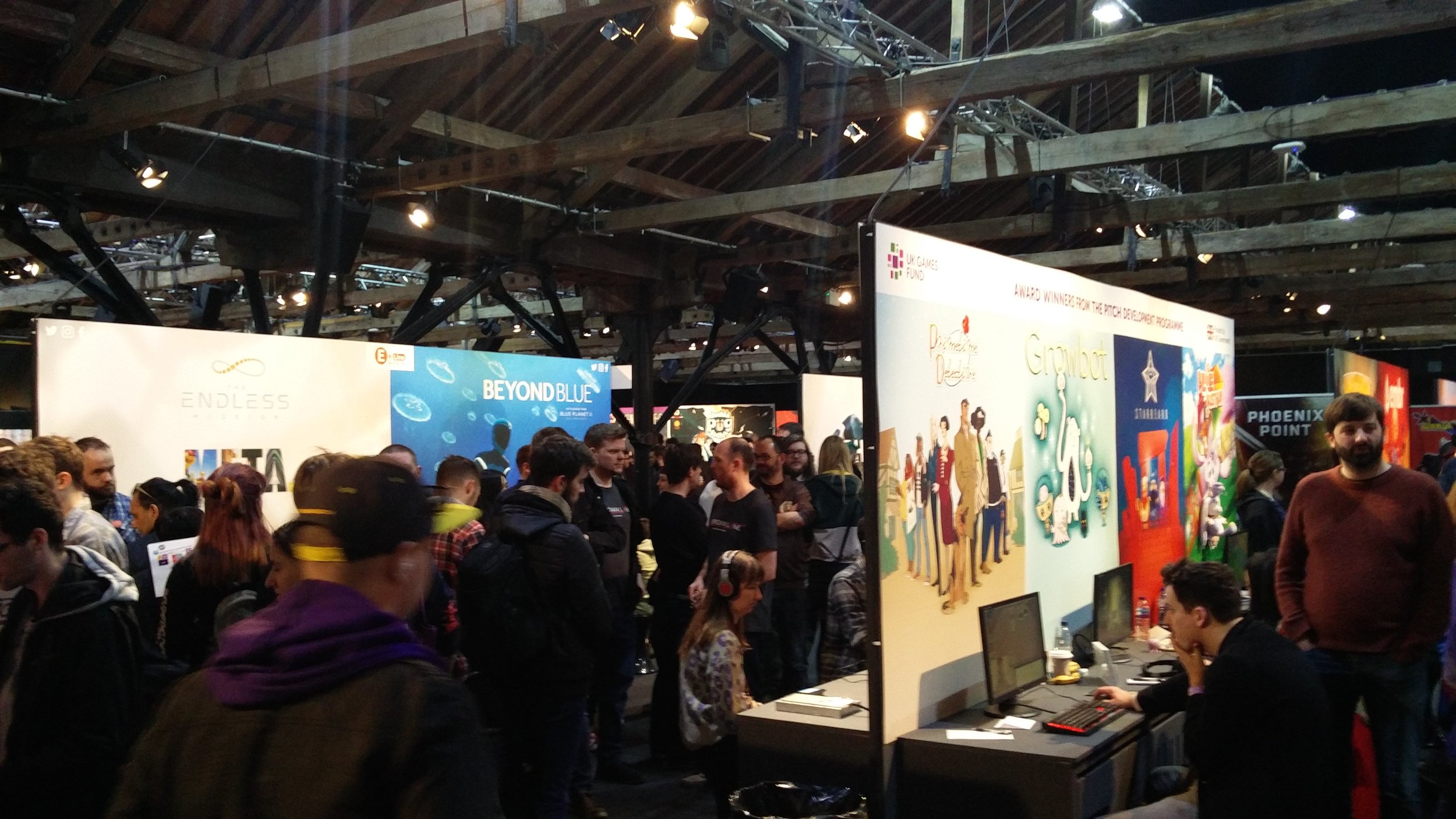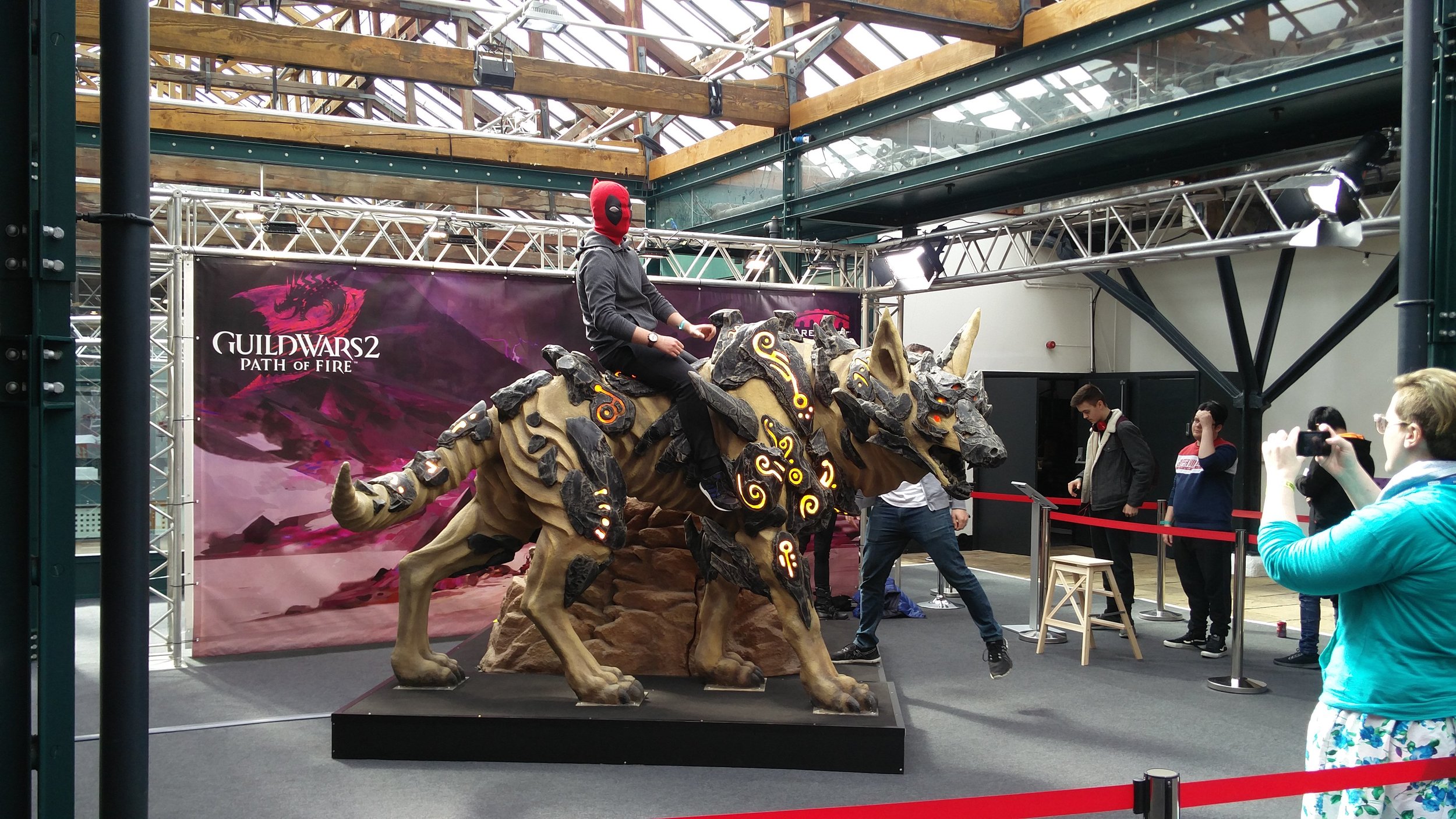 Knights and Bikes
So let's start with a more in depth look as this is one of the great talks we got to see. It has a curious title: we had to check out the website to know what we were getting into before seeing the games' developers talk about the inspiration behind the product. Knights and Bikes is a cooperative adventure game based down in Cornwall, south of the UK. It is developed by Indie dev, Foam Sword and here is what Rex Crowle, the creative director, had to say:
A Children's Style
In the early stages of the art and game development, the sketchbook is used to design first, as it is a place away from the influence of digital tools. Crowle stressed that the more you work directly with digital, the more you are restricted to your digital abilities. So, more thinking on paper is more fun with digital tools.
The game itself is on a 3D world, but from a single point of view. In fact, the assets which populate that 3D world are 2D paintings, placed in the environment. If you are to rotate the camera around, you would see everything has no depth! It is all layers of 2D to create a kind of set, very much like a theatre stage.
The 2D paintings of houses and other assets are inspired by the art of Alfred Wallace, who is Cornish himself, and though the buildings started off like architectural elevations, more of the wobbly, slanted perspectives made themselves into the finished style. The art was also created with materials that children might use, which just draws you further into the childlike sense of adventure. Everything has been drawn two or three times and animated to create that shaky style often seen with cartoons.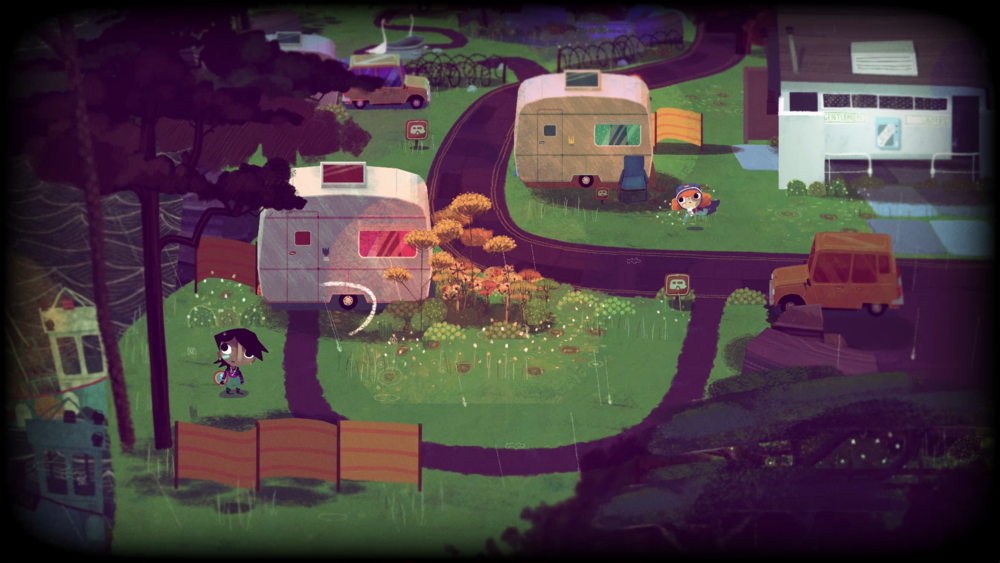 Nostalgia
Nostalgia is a key theme of the game, specifically pulling you back to the Eighties. It isn't over the top neon sunsets and De'Loreans though, but a much more real version - there is a gameplay backstory restriction which ensures this; the parents of the main character are not well off and so could not have afforded all the high end luxuries of the 1980s. Nostalgia is hidden all over the place. There are even mini-games within this game which all play off what sort of things were around back then.
Storytelling
At it's heart, it looks like Knights and Bikes is story focused game, in which the two players build and connect at the same time as the characters. The art styles, 80's setting and nostalgia themes are all there to conjour your inner child and bring it out. The style is really cool, and we personally love offline coop games. We know we'll be pre-ordering it :) Add it to your Steam wishlist here.
Life is Strange 2
The premise is intriguing, the graphics are very good and we would love to have a go at it! (and the first one!)
Add it to your Steam wishlist here.
Metamorphosis
A game where you are a bug. I mean, that is enough for us to want to buy it. But fortunately we got to have a go playing this one! This game was featured in the Unreal Engine room, having been built on that software. We briefly spoke to the developer who told us the premise is simple enough: you mysteriously wake up transformed into a body of a small bug called Gregor (not sure if you are called Gregor before you transformed, or if the bug version of you specifically comes with this name) and you need to solve the puzzles to unlock the reasons of your transformation. It was very fun running around seeing your tiny front legs scampering about. Add it to your Steam wishlist here!
Road to Guangdong
If it has a gentle story and interesting art, Strange Labs usually gets pretty interested. One of those presented by the developers is Road to Guangdong, a road trip game. Now apparently, the game idea started from the minds of Alex Darby and his colleague, but they enlisted the help of storyteller Yen Ooi not only to help creatively, but to add culturally. (They did acknowledge, two white guys trying to make a chinese story through the eyes of an androgynous protagonist sounds a bit off!) The main character was developed into a girl named Sunny and the story is a meandering adventure following Sunny and her Aunt, Guu Ma, driving around China collecting rare and old recipes in order to rejuvinate a family restaurant.
Your car, Sandy, fulfills a third character role and a key asset to the game. As you and your Aunt try and forgive your differences, you have to keep Sandy ticking along whilst all the time the car just wants to fall apart! It is noted this is not a simulation game as such, but the problems your car develops will be reminiscent of real life motoring issues.
There is an established game mechanic, setting near, mid and long term goals but the story and gameplay itself is said to drift along without necessarily a definitive end.
The artwork is defined almost by it's palette. As the developers say, there is a strong influence by Wes Anderson (both in the colours and the gameplay) and the art is definitely eye catching. The driving POV is very relaxing and pleasing to look at. It will come with two soundtracks (so far) delivered via the in car radio - one station is Guu Ma's favourite, traditional Chinese-esque music, and the other is Sunny's favourite, much more intense! In the play throughs we had, driving styles were definitely influenced by what you were listening too! A there is a trick to the driving: you have to find the perfect way to drive to prolong the life of your car :)